Categories
EMILLA CLOTH PADS - Click for the sizes!

Wet bags for pads and menstrual cups

Menstrual cups and Lubricants

Cup coasters

Interlabial pads

Sleeping masks
First time here? 
Don't worry, it is SO easy to order!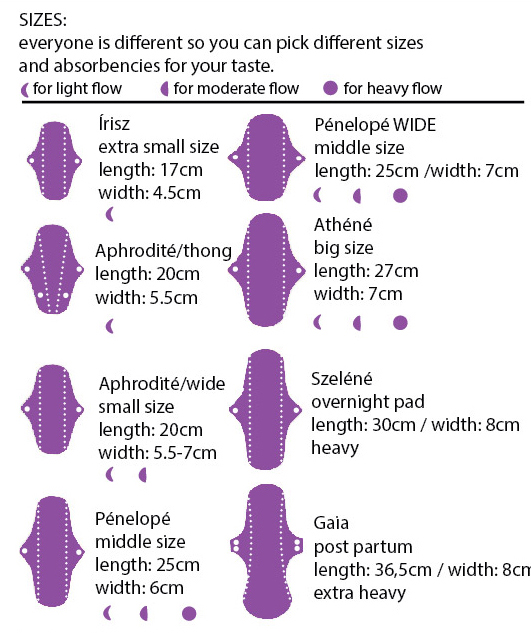 - Just pick all the pads and other goodies you'd like to have and if you are not yet registered to Emilla Pads' page, it will automaticly offers you to do so, when you check out. 
- Then, you will be able to choose between three different shipping:
1. First one is ONLY for shipping inside of Hungary
2. Second one is for shipping inside of Europe
3. and the Third option is when you live outside of Europe. (Anywhere else in the whole world!*)
* Please note that we do not ship clothpads for menstruation to the US, only wetbags, stainsticks, cloth liners for everyday use such as (Írisz and Afrodité liners), and all the other goodies that are not heavy nor moderate pads for menstruation. 
- After you chose your shipping option, the system will count the weight of the pads and the postal fee for You. 
If you'd like to check out the prices of the shipping, just scroll down and have a look-see. :)
Afterwards you will have two options to pay for your order:
1. PayPal: If you choose this option, you will be automaticly directed to PayPal and you are only a few clicks away to finish paying the costs and preparing to wait the postman for your Fluffymail! 
Please note, that we take a very minimal fee for using PayPal, that is always under 1 €, the rest is payed by us, as a compliment for choosing Emilla Pads!
2. International bank transfer: If you don't have PayPal, you can choose this option. In this case, after you ordered your pads, you will be getting all the information you need for the international bank transfer per email, our bank data, etc. After you got our IBAN number, etc., you can transfer the costs from your bank to ours and we will send you the Fluffymail after we receive the payment. International bank transfers take a bit longer time, but usually the costs arrive in 1-4 workdays. 
The transfer is free, you will not have to pay ANY extra bank transfer fees for Emilla Pads! 
However we don't know whether your bank takes any extra costs or not for your transfers. It differs in every country
and bank company.
The Bank information you will be receiving per email is this: 
Emilla Pads's bank account info for international bank transfer: 
Company's name:
 Emilla Kereskedelmi Bt. 
IBAN
 number: 
HU03182032600602974640010018
SWIFT code: FHKBHUHB
Bank's name: FHB Bank
Bank's address: Budapest, 1082 Ulloi ut 48., Hungary
HEEELP!
If you have anything in mind, if you need help or have a question, write to us before you order!
We are doing the best we can to get in touch with you and answer all of your questions. 
Emilla's email address: emilla.hungary@gmail.com
Shipping costs:
It always depends on the weight of your pads and the Continent you live in.
You will see the weight of every product in their description box, so that you can estimate your shipping beforehand.
If you live in Europe:
UNTIL: 100g - 1750 HUF
If you live anywhere else, out of Europe
(America, Australia, Asia, Africa, Antarctica, The Moon :) 
UNTIL: 50g - 1895 HUF
UNTIL: 250g - 2515 HUF
UNTIL: 500g - 3520 HUF
UNTIL: 1000g - 7200 HUF
Aren't you familiar with HUF (Hungarian Forint)? Here is a website where you can exchange our currency to Yours!
https://www.google.com/finance/converter
Can I choose currencies to pay with? 
YES!
You can pay on this webshop in: HUF, EUR and GBP
Just simply change the currency at the top left bar of the Emilla's page, under the British flag, before you start ordering.